Product Description
4L60E 4L65E TRANSGO SK4L60E (THE ORANGE BOX) SHIFT KIT.
THIS IS A GREAT UPDATE FOR ANY 4L60E TRANSMISSION, THE TRANSGO 4L60E SHIFT KIT.
4L60E & 4L65E 93-05
Cadillac Escalade,
GMC Envoy,
YukonXL 5.3L, 6.0L, ChevroletAvalanche,
Trailblazer, Blazer,
Suburban 5.3L,6.9L,
Oldsmobile Bravada
Fits 4L65E Except Hybrid
THIS KIT IS A EASY FIX FOR BIG COMPLAINTS.
CORRECTS, REDUCES, PREVENTS:
CHECK ENGINE LIGHT BLINKING

P1870 CODE

BRUTAL 1-2 SHIFT

CONVERTER SLIP SHUDDER

BURNUP

ERRATIC PUMP SLIDE BOUNCE THAT WEARS OUT PUMP AND VALVE BORES

BUMP-BUMP 1-2 OR 2-3 SHIFT

3-4 CLUTCH AND 2ND BAND FAILURE

REAR PLANET BURNUP

BUSHING BURNUP
Special Instructions: Does not Require transmission removal for proper installation.
THIS KIT COMES WITH A NEW UPDATED PWM BOOST VALVE BUT NOT THE TCC BOOST VALVE, THAT IS SOLD SEPARATELY.
CHECK OUT OUR P1870 CODE BUSTER COMBO KITS TOO.
TRANSGO PART: SK 4L60E
CLASSIFICATION: SHIFT KIT
FITS: 4L60E, 4L65E, 4L70E and 4L75E 93-07Except Hybrid units.

FEATURES: Corrects/Prevents/Reduces: Fixes Code 1870. Trouble light & Hard 1-2 shift.
No lockup or 4th. Fixes harmonic bounce that wears out pump and valves and causes
shuttle shifts. Has new design Isolator Valve that works perfect in worn
bore w/o special tools or machining.

Special Instructions: Does not Require transmission removal for proper installation.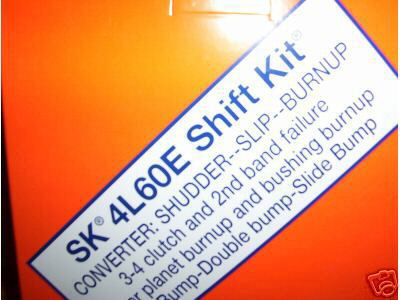 Fits General Motors 4L60E, 4L65E and 4L70E 1993-2010 "Except Hybrid units".
Includes our exclusive "ISO-CONV Valve" a one piece valve that replaces both the OEM Isolator and Converter Regulator valves. This transmission has been utilized in many different vehicles and our kit contains parts and items necessary for an extensive recalibration of this unit regardless of vehicle size, power, engine or axle combinations.
Addresses and Fixes trouble Code 1870. Trouble light & Hard 1-2 shift. No lockup and/or 4th. Corrects damaging harmonic extreme bounce in pressure gauge readings on PWM (Pulse Width Modulated) pump that causes pump failure and/or premature wear on valves and pump assembly. A no fuss solution! Convenient drop in ISO-CONV valve, No special tooling or machining necessary!
This kit is a must for this transmission, not only does it shift quick, clean, smooth and nice, but it addresses the most serious complaints that have plagued this unit over the years. With this kit durability and dependability are greatly increased, plus you or your customer will love the way it works.
For Performance and Heavy Duty vehicles use the 4L60E-HD2 Reprogramming Kit™. It has all the benefits of the SK 4L60E kit plus options for firmer shifts and our exclusive Gear Command feature.
Installation recommendation: Experienced technician
Transmission removal necessary: No
IT JUST AIN'T FIXED WITHOUT IT!!!!!!
---
---

100% MADE IN THE USA


---
THESE ARE THE KITS THE PROFESSIONALS USE. DON'T SETTLE FOR LESS.
---
After purchasing, pay instantly with your credit card through PayPal!
---
PLEASE NOTE: TRANSMISSION REMOVAL IS NOT REQUIRED TO COMPLETELY INSTALL THIS ITEM.
---
---
PLEASE MAKE SURE OF YOUR TRANSMISSION PRIOR TO ORDERING YOUR ITEM.
---
CT POWERTRAIN PRODUCTS PART NUMBER: K77908E
Customers also viewed